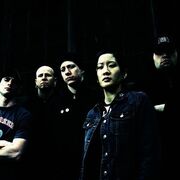 Figure Four

Years active

Genre
Figure Four were a canadian
Hardcore punk
band who formed in 1996 and were signed to stateside records.
Studio albums
No Weapon Formed Against Us 1999
When It's All Said And Done 2001
Suffering The Loss 2003
They were playing shows until 2006 when they stopped all of all sudden, but they did start performing again in 2011 at rainfest and did some more shows over the next couple of years following.
Andrew stated that the band wasn't meant to be finished as such, but they all had other things to be doing and while they got older, they priorities had changed, they had different feelings and opinions about life.