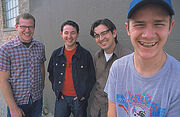 The promise ring were an American Emo band from Milwaukee Wisconsin. They formed in 1995. Their members are Davey Von Bohlen on vocals and guitar, Jason Gnewikow on guitar, Scott Schoenbeck on bass and Dan Didier on drums.
Although it started as a side project for Davy from Cap 'N Jazz, The promise ring became one of the prominent Emo bands of the 1990s era.
They had a reunion in 2005, and another in 2011, which went through to 2012, their last ever performance.
Discography
Watertown Plank EP (split with mineral) (1996)
30 degrees everywhere (1996)
The Horse Latitudes EP (1997)
Nothing Feels Good (1997)
Boys + Girls EP (1998)
Very Emergency (1999)
Electric Pink EP (2000)
Wood/Water (2002)